15+ Most Creative Free Crochet Pillow Patterns 2021
The crochet pillow patterns make it easy to change the interior of a room. Some crochet pillows are designed to be padded and sewn together, but many are designed as removable pillowcases that can be easily washed and changed from season to season. Depending on your decorating style, you can lift colorful or neutral, whimsical or plain, textured or plain, square or round cushions (or any other shape). These ten crochet pillow designs illustrate a range of styles for different homes.
Crochet a nice pillow set or even a floor pillow to entertain or relax. These free crochet pillow patterns are very easy to make and can be sewn right from your computer screen.
Everyone loves comfy crochet pillows. They are relaxing, stylish and add personality to any room. Liven up your space with a simple crochet pattern.
Present Pillow Pattern
Materials
Bernat Blanket yarn in the colors
Vintage White (2 skeins)
Purple Plum (1-2 skeins depending on your tension)
9 mm hook
scissors
tapestry needle
Pillow Cushion 18×18 inches, hypoallergenic
Gauge:
1 row x 2 sts = 1 square inch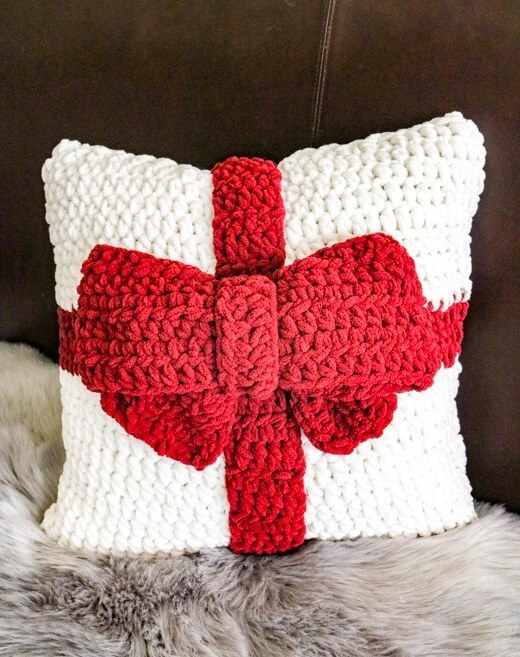 Crochet Pom Pom Cushion
SKILL LEVEL: Beginner
Materials
Hook: 3.75mm
Yarn: 2 skeins of Cascade Cherub DK in Baby Pink, 2 skeins of Cascade Cherub DK in Orchid Mauve.
Tools: Scissors, tapestry needle, 10 oz polyfill pillow filling, pom pom maker (optional)
Girls Sleepy Teddy Pillow
SKILL LEVEL: Beginner
Materials
Hook: 10mm
Yarn: 4 skeins of Plymouth Encore Mega in Light Grey (250 yards), 1 skein of Plymouth Encore Mega in Bright White (40 yards), 1 skein of Plymouth Encore Mega in Light Pink (30 yards), 1 skein of Plymouth Encore Mega in Black (5 yards).
Tools: Scissors, tapestry needle, 1lb of polyfill stuffing
Floppy Disk Cuddle Buddy Pattern
Materials
Super Bulky Weight Yarn (#6)
Disk Color (A) [5 oz / 210 yds]
White (B) [2 oz / 42 yds]
Gray (C) [1 oz / 21 yds]
Pink (D) [Scraps]
L/11/8.00mm Crochet Hook
15mm Safety Eyes
Fairfield Poly-fil
Scissors
Gauge
Not important for this project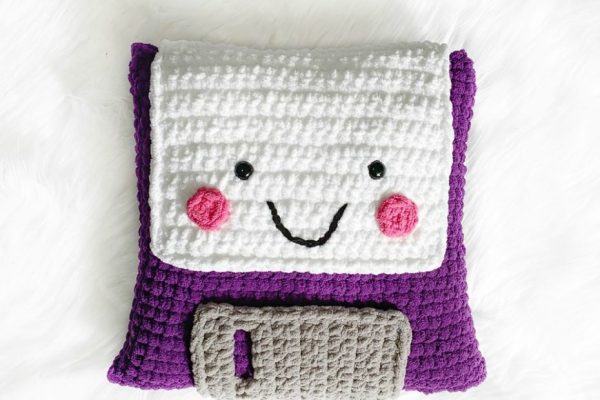 Zigzag Bobble Pillow Pattern
Materials
CROCHET HOOK:
Size 6 mm / US: J / UK: 4
YARN:
Yarn used:
Yarn Brand – Lion Brand Vanna's Choice in color Linen, Dusty Purple, and Dusty Blue.
Yarn amount used:
4 skeins / 400 oz / 14 g / 624 m / 680 yards
Yarn characteristics:
4 medium yarn, worsted yarn.
100% acrylic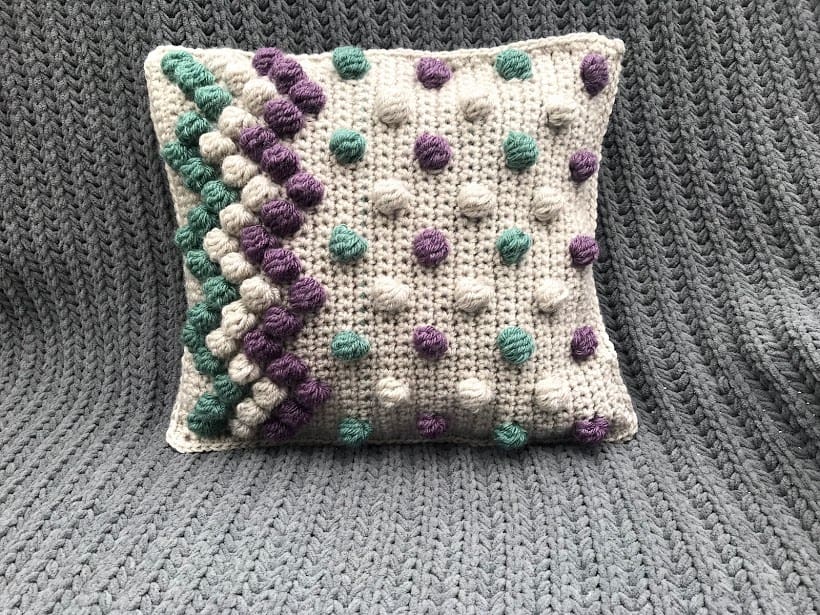 Waffle Stitch Throw Pillow Pattern
Materials
Lion Brand Wool Ease Thick and Quick ('Spice Market' pictured) or 435 yards of a comparable Category 6 Super Bulky yarn.
8.0mm crochet hook
Scissors – I always keep these travel scissors in my hook case
Yarn needle
20" pillow form or polyfil stuffing
(optional) tassel maker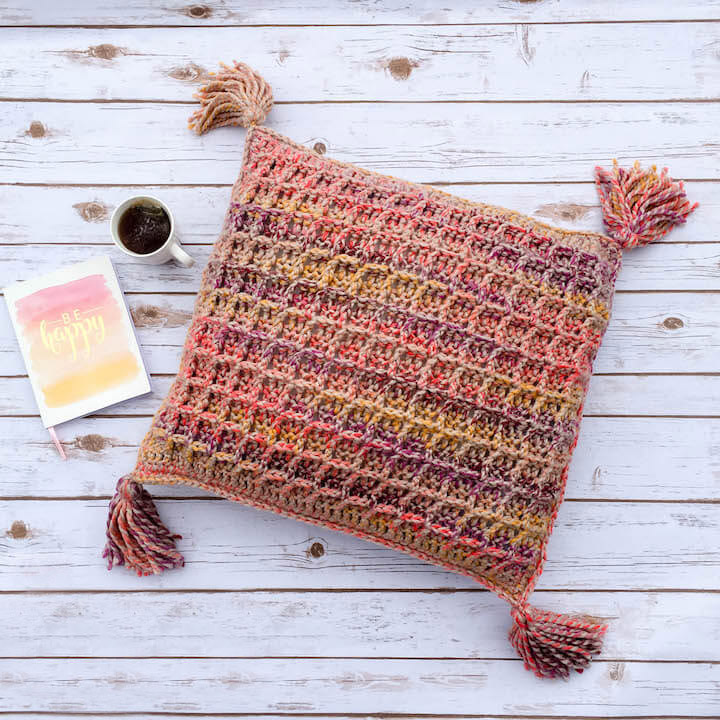 Aligned Cobble Stitch Pillow Pattern
Skill Level: easy/intermediate
Materials
Hook(s) size: K 10.5/ 6.5mm for pillow – H8 / 5mm for heart
Yarn weight: Bulky
Preferred type of yarn: Merino Wool
Suggested yarn:1 skein Cascade 128 Superwash – color A 1913 Jet, 3 skeins Cascade 128 Superwash – color B 1946 Silver
Yarn Yardage: color A – 100 yds, color B – 320 yds
Tools – scissors, tapestry needle, stitch markers, polyester filling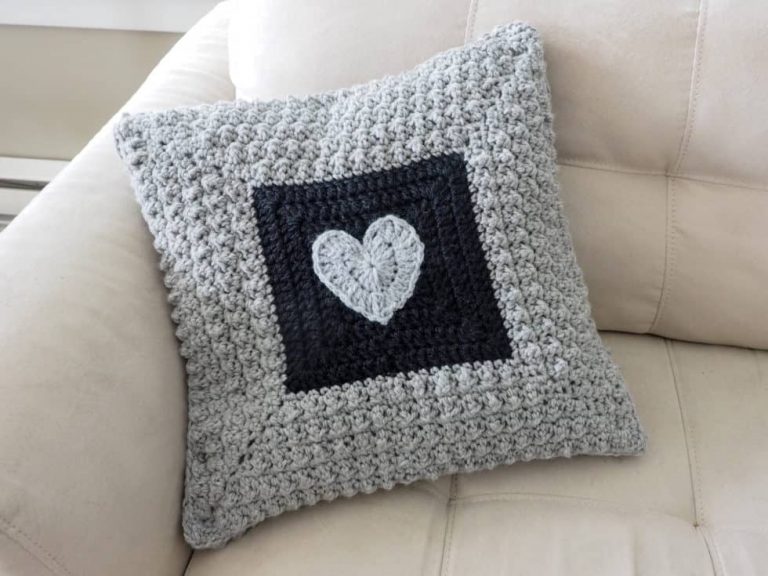 Hypnotic Pillow Pattern
Materials
2 skeins Red Heart With Love Metallic (1 in Aran and 1 in Black).
K hook by Leither Co. (Use code SINCERELYPAM to get 10% off your hook order!)
14″ Round Pillow Insert.
Stitch Marker.
Tapestry Needle.
Scissors.
Gauge:
first 4 rounds of pattern is 4″ in diameter.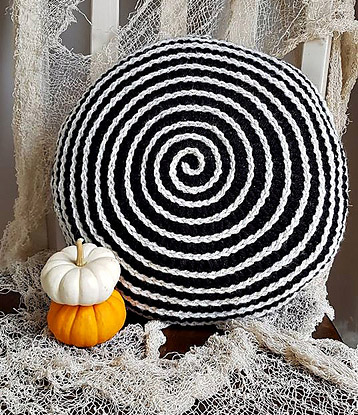 Velvet Circle Pillow Pattern
Materials
1 skein Bernat Velvet (Sandy Cream)
J/6.00mm hook
18" diameter circle pillow form
Tapestry needle
Scissors
Pattern notes
Beginning chain does not count as a stitch.
The pillow will be made by crocheting two separate circles and then joined around the pillow form.
Dimensions: 18" diameter
Gauge: 4"x4" ~ 10 st x 4 rows in double crochet
Crochet Star Pillow Pattern
This crochet pillow is a cute pattern and easy to make. This crochet tutorial is easy to follow with a video explaining the whole process.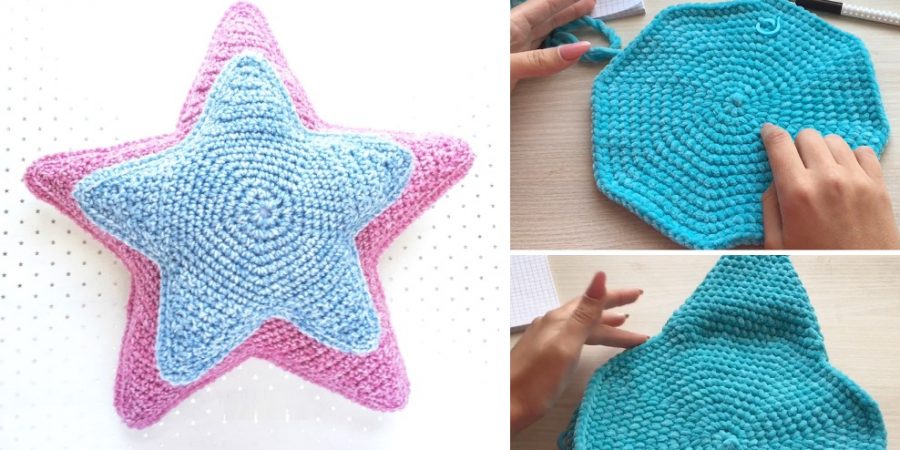 Granny Square Crochet Pillow Pattern
SKILL LEVEL: EASY
Make a statement with this crochet granny square-inspired pillow using a self-stranding yarn like Caron Tea Cakes. Crocheted, colorful English breakfast in Caron Tea Cakes.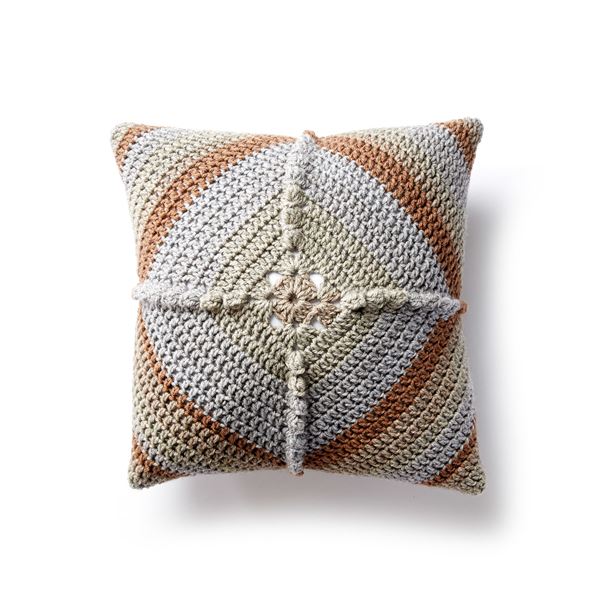 Crochet Tasseled Pillow Pattern
SKILL LEVEL: INTERMEDIATE
There is no shortage of excitement with this fantastic crochet pillow! This project is done with a combination of textured crochet stitches and then highlighted with trendy tassels and fringes. The beautiful colors of Caron Cotton Cakes are perfect for this fun addition to your home. Discover this great model for some techniques that you may be new to!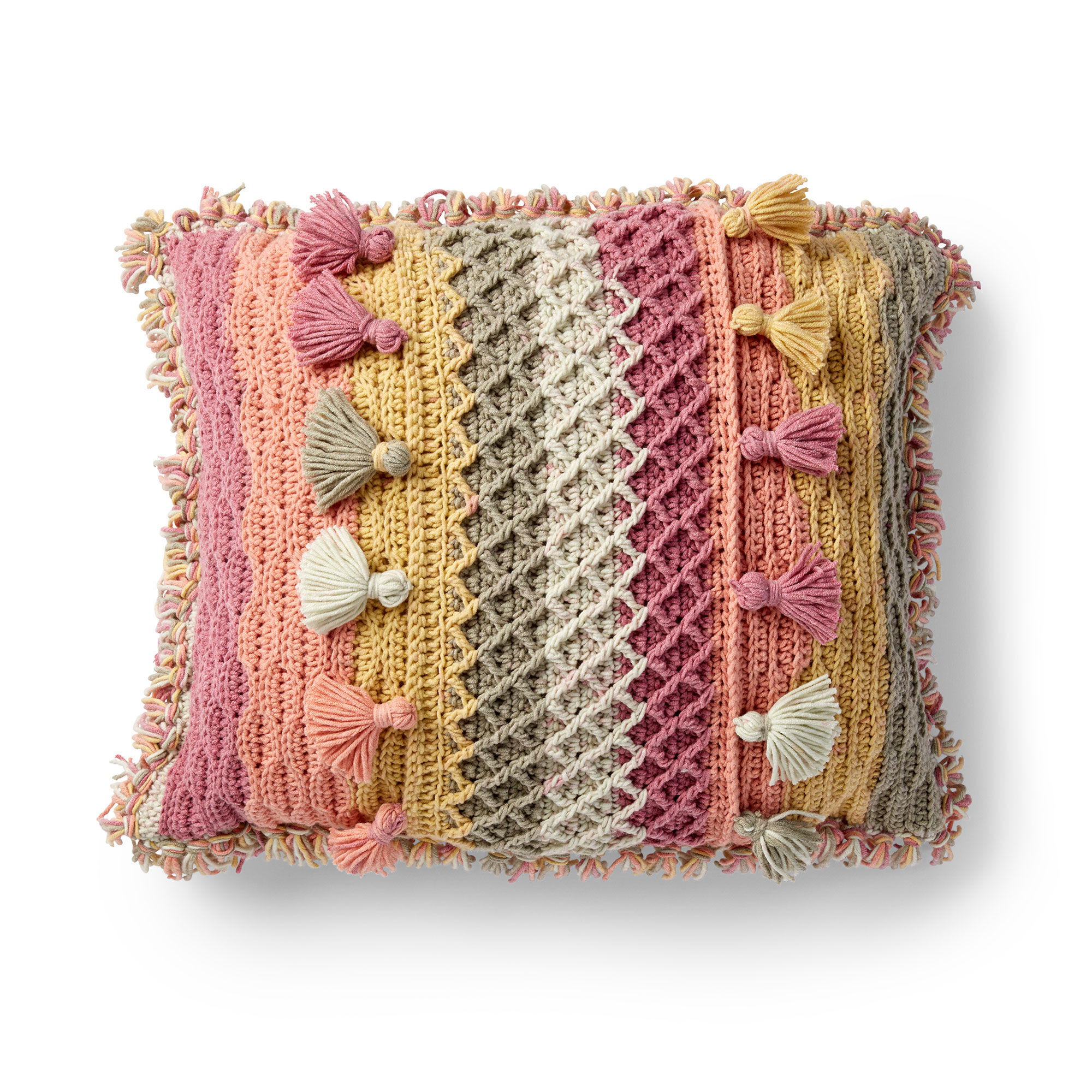 Tassel And Texture Crochet Pillow Pattern
SKILL LEVEL: EASY
Handmade quality gifts are cherished forever. Bernat Softee Chunky quickly crochets this popcorn and tassel pattern so you can conjure up a few accent pieces right away. These multi-textured pillows look great and add a touch of personality to any room.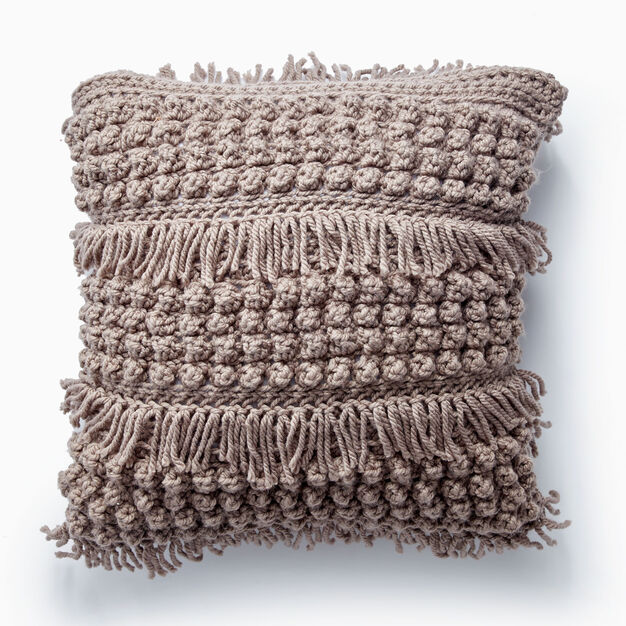 Crochet Chain Links Pillow Pattern
SKILL LEVEL: EASY
Chain links are super huggable, so let's start with this textured pillow. Let yourself be inspired by the Bernat blanket yarn and enjoy the chenille feeling in your finished piece. This pattern is so simple that you can effortlessly make a bunch of pillows for each room in many different colors.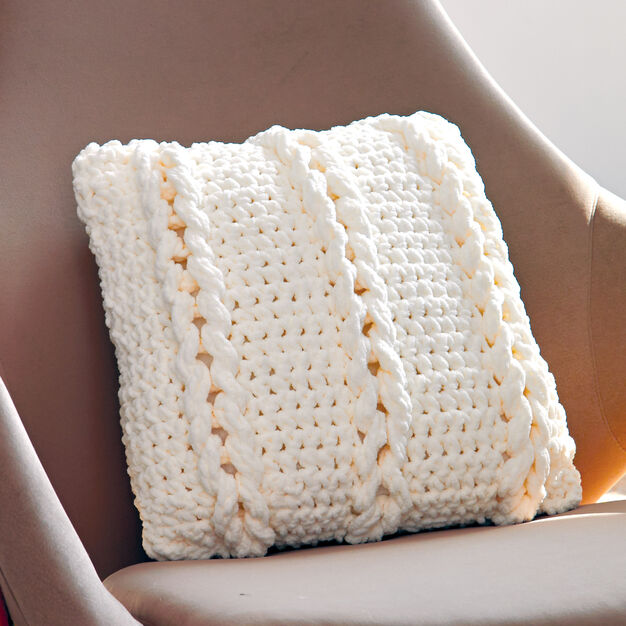 Ending With A Bobble Crochet Pillow Set
SKILL LEVEL: EASY
These attractive crochet pillows are sewn using simple colors from the lush Bernat blanket. This simple project allows you to edit single and triple crochet stitches as they are stitched together to create a soft wobble effect on both ends of the pillow. It's a great project that will add color and texture to any room.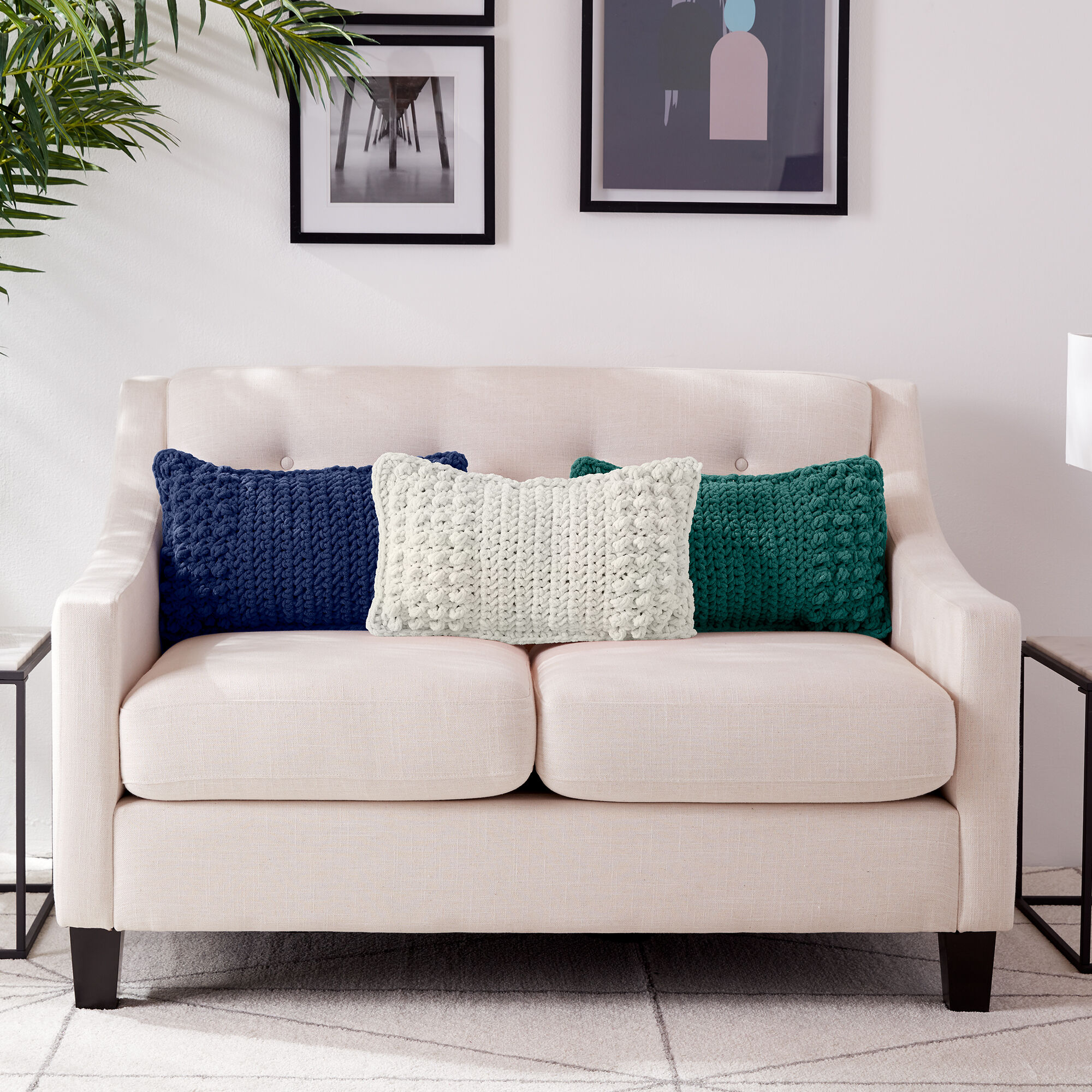 Bobble And Fringe Crochet Pillow
SKILL LEVEL: EASY
These statement pillows are great for those looking to freshen up their home decor with added textures. A fun twisted cord edge and some simple height and single crochet stitches give this pillow crocheted in Bernat Blanket unique textures. With a slit opening in the back, you can easily cover existing pillows with something handmade.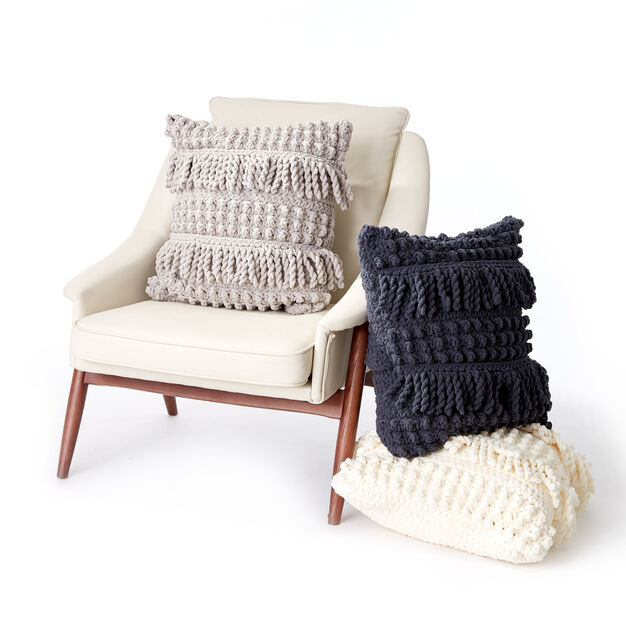 Bobble Licious Pillows Patterns
SKILL LEVEL: EASY
Do you need a splash of color in the family room or in the bedroom? Look no further with this beautifully textured, curved pillow. With Patons Canadiana you can choose between inspiring solids and lively, colorful shades. Whether you are bold or neutral, throw these pillows anywhere to add a personal personality to any room.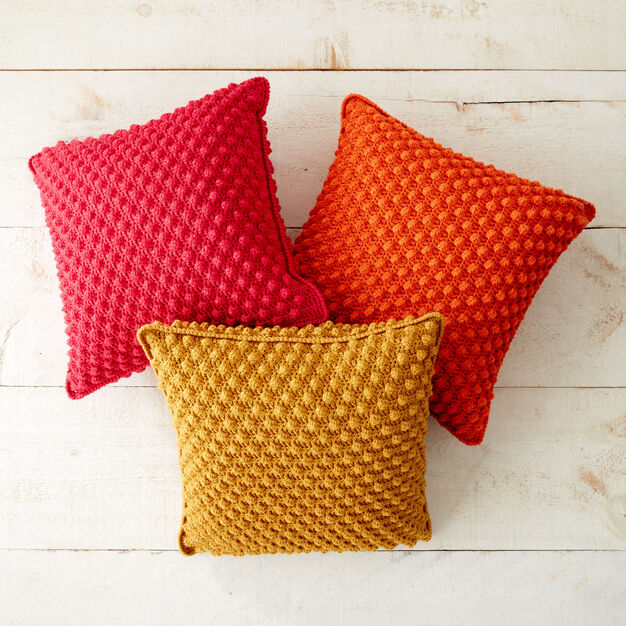 Bobble Licious Pillow Fool's Gold Pattern
SKILL LEVEL: EASY
Download this free pattern today and make a beautifully colored and textured pillow for any room in your home. The fine brightness, the lively selection of colors and the softness of this yarn made in Patons Canadiana show your handmade project in a wonderful way.
Patons Geo- Pop Crochet Pillow
SKILL LEVEL: EASY
Create a bold geometric pattern enhanced by the dense texture of crochet popcorn stitches. Wearing unused colors in each row doesn't mean any fussy color work for this crochet pillow! Just pick your Patons Canadiana colors and apply popcorn stitches, color work, single crochet, double crochet, and more to complete the decorative accent you will love. A nice addition to any room.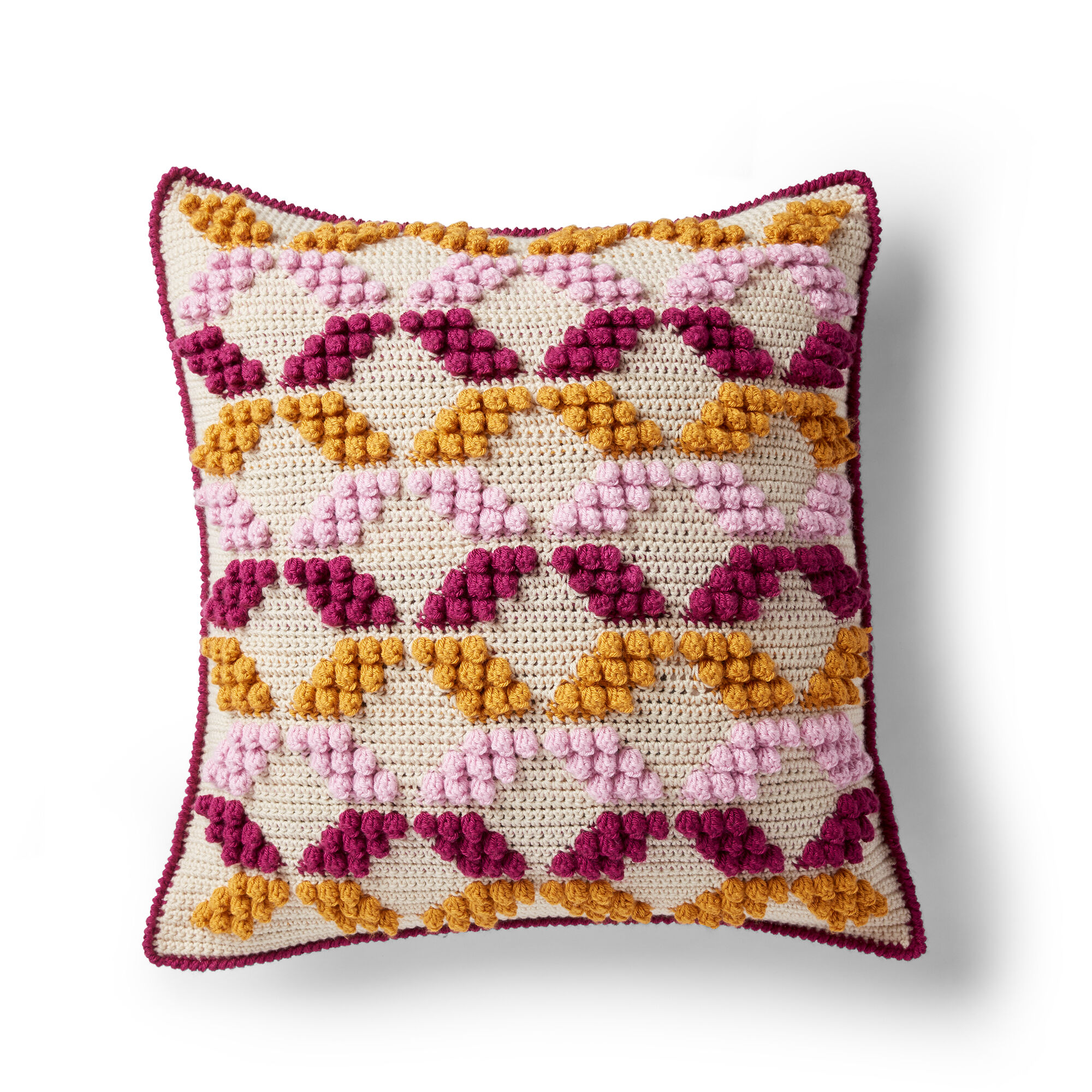 Bobble Stitch Pillow
SKILL LEVEL: EASY
Try this crochet pillow on the go to add texture and warmth to any room. We've chosen neutrals for maximum versatility, but imagine your own personal version that comes to life in every shade of Red Heart With Love. Tassels are attached to 4 corners to complete this project with a reluctant personality and a fun touch.